SXSW wiped me out. I'm here in my childhood bedroom nursing a cold/flu/sinus infection. I've got a pile of used tissues on my nightstand, a glass of room temperature water, a blueberry coffee from Dunkin Donuts, a half-empty bottle of cough syrup leftover from a winter's cough, a bottle of a Target-brand Benadryl, a Rite Aid brand of Sudafed and cup of organic green tea and ginger. Liquids galore and pills to look forward to swallow. I'm going with pharmaceuticals this time around. I usually go with the holistic route in combating an illness but that's less fun and I'm on vacation and I'm looking for an amusement park full of highs and lows and spinning spin spin spin. The Sudafed is keeping me awake and the cough syrup is making me feel drunk. It's 75 degrees in New York right now and I have only watched the sun rise and fall from my window. The worst symptom I have is my ears. It feels like there is three feet of water moving around in my eardrums. To borrow a lyric from Nada Surf I feel "spacier than an astronaut." On the plane home from Austin, I was in excruciating pain. No matter how big I yawned or how many swigs of Vitamin Water I swallowed I could not "pop" my ears. The cabin pressure in the plane was unbearable. It would wake me up from a deep sleep against the windowpane. I was on the verge of tears, looking around at my fellow passengers to see if they were having the same problem. Nope. Everyone looked sound and peaceful. Either sleeping or reading their bestsellers. I thought I was going crazy. I imagined myself pushing the button above me to hail down a stewardess. I imagined a full-fledged panic attack. Telling them I was dying and that my ears were going to burst and start bleeding profusely. I imagined telling them they needed to make an emergency landing. I imagined scaring all of my fellow passengers and becoming "that" person. I thought there was something wrong. I stifled the urge to make a scene and quietly sat in pain, squirming and fidgeting. I think the gentleman next to me started to take notice and I tried not to react physically. He was a gentleman in his mid 30s who had Patrick Bateman hair. I think he wanted to strike up a conversation but I pretended to sleep because I knew I wasn't capable of conversing in any manner. Once we landed I googled my symptoms and thankfully discovered I'm not the only one who has experienced this kind of pain. It's been two days and my ears are still clogged. I've always had a fear of going deaf. Being an avid music lover, I feel as if my ears have been subjected to a lot of noise. Punk shows on Long Island standing near the speakers because I couldn't mosh my way to the front of the stage. All those hours I spend with headphones and earbuds on. Punk rock. Electronic snyths. Those hardcore and ska bands from the back in the day. Those summer drives blasting records with the windows rolled down and sing-a-longs with best friends, driving over bridges to get to the beaches. Concert after concert. Show after show. My ears have been through everything. I never remember to bring my earplugs. While walking around Austin I was telling The Boy about my fear of going deaf. While walking to a donut trailer, we walked past a school with all these kids outside making out on cement stairs and curbs. He thought it was a college. I said they were too young for college. We walk past the entrance and it's a school for the deaf. It's a sign. A sign I will lose my hearing soon enough. I asked him if he would still date me if I were deaf and he tried to console me by saying yes but I have my doubts. It's been two days since that flight of excruciating pain and I still feel like I have an entire ocean crashing on the shores between my ears. My equilibrium is off and I can hear myself talking, chewing and breathing. I can hear myself do everything. I feel claustrophobic. I'm trapped in my own head more than I ever been trapped before. Forget self-consciousness. I'm a cloud of a person just hovering through the day, mingling with regular folks with regular eardrums. I think I have incorporated the physical embodiment of selfishness. Self-absorbed. Self-centered. It's unbearable. It's frightening and I'm dreading to make an appointment with my doctor. She'll belittle my symptoms and then I'll lose my hearing all together. Not to mention sitting in the waiting room for hours so she can inform me that nothing is wrong and won't even write me a prescription for anything because she doesn't like medicating without purpose. Don't get me wrong I love my doctor for just those reasons, but sometimes I want a diagnosis and a cure. I already imagine the conversation we will have. The last time we spoke we were talking about dating sites. I recommended OkCupid. I wonder if she followed up on my recommendation. She's the female version of an Italian Stallion and she's a doctor! That's a catch and a half if you ask me.
EDIT: ACCORDING TO BROOKLYN VEGAN'S TWITTER THERE WAS A SXSW FLU GOING AROUND.
So here I am losing my hearing but still listening to music. You never know these might be the last songs I'll ever hear for the rest of my life. Maybe South by Southwest will be the last music festival I'll ever attend. So, in the next few paragraphs I'm going to try and capture my experience in Austin, Texas. It will be a difficult feat because all of the days blurred into one very long day and night. I had a tentative schedule but I didn't follow it as well as I thought I would. I was badgeless and broke and I wandered the streets of Austin, walking for miles at times to get to venues, bars, and movie theaters. It was hot, sunny, gloomy and overcast. The wind was my enemy messing up my hair with every gust. I wore a baseball cap half of the time I was in Austin because I couldn't keep my hair from becoming a bird's nest. Broke out the short shorts, the sunglasses and the sunblock on this trip. I kept myself hydrated and didn't drink as much booze as I thought I would, despite free beer being offered all around.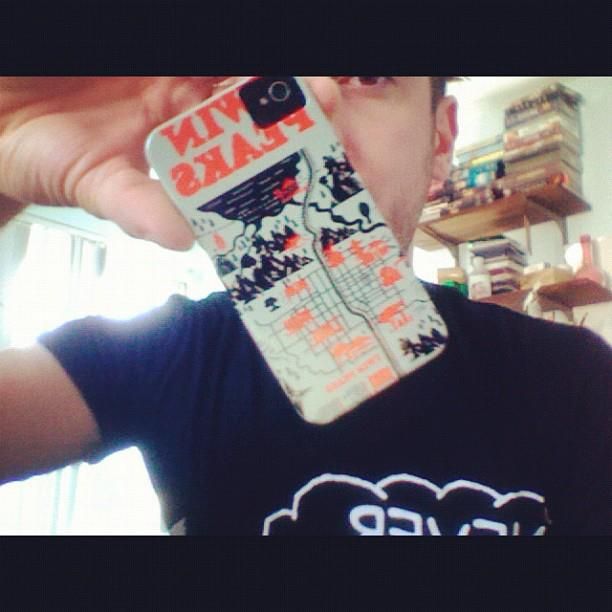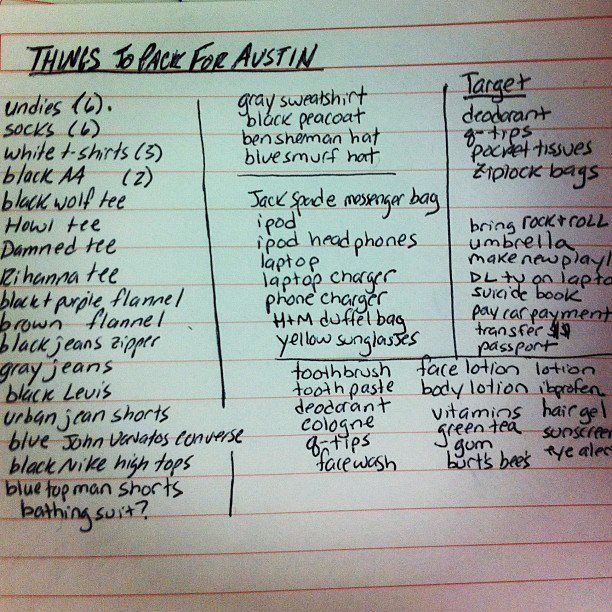 I thought my iPhone was charging while I jumped in the shower and waited for G to pick me up to drive me to JFK. I was wrong. The plug was not pushed into the electrical socket. My new Twin Peaks iPhone case came in the mail that same day and I was obsessed with it. I packed just the night before. Drawing lines through my very detailed "Things to Pack" list. I was too busy preparing for my court date the week before I was leaving for SXSW. It was a trial and the jury ruled in my favor. Church pews, plaintiffs and the creepy dude who smokes cigars who is suing me for his own stupidity. My lawyer seems Jewish and he has a neurotic ramble when he talks. His opening statement was endearing but I felt as if his demeanor is much more geek than personable. But he pulled through as the jury was on my side. I had to speak into a microphone and get cross-examined by a lawyer than seemed more of a hack than an actual lawyer. He was obese and his stomach hung below his suit pants and belt. The guy suing me tried to make small talk with me and I didn't want any of it. Creep. So, G picks me up in her Honda Fit and she has a Frank and Penelope with her. Penelope (a dog) and I had a few cute moments in the backseat. G finally got an iPhone charger for her car so I was able to charge on the way to the airport. I'm running on fumes at this point because I couldn't sleep the night before. She hands me a Klonopin for the plane ride and I pocket it. I give Penelope a good bye rub and I'm out of the car with luggage in tow. I smoke my last cigarette for a few hours. There's a boy smoking also, sitting on his luggage and he keeps looking back at me. A girl with an iPad is reading and smoking on the curb and I can almost hear her long fingernails hitting the screen of the iPad with every tap. I check my bag despite having to pay because I didn't pack my liquids properly. I didn't want my Dolce & Gabanna or Kiehl's to be thrown away. I'm super early with a dying iPhone and a laptop even closer to death. I have a connecting flight to Atlanta and there was a very large black lady sitting next to me on the plane. She was very nice but super aware of anything and everything I did. I loved the interaction she had with the very white lady next to her on the aisle. The white lady wasn't having it. Coach: where all walks of life mingle. Just like the post office or bank. These are where the best interactions happen. I'm walking around the Atlanta airport and I keep getting weird looks from everyone. I shouldn't have dressed like a goth kid today. I mean there's even a coffin on my tee shirt.
I finally touch down in Austin. My best friend Alex from Seattle is texting me telling me he's leaving the festival early because he's super sick. I'm upset and shrug it off. Jared is on his way. He borrowed his friend's car to greet me at the airport because I feigned fear of getting lost trying to find the bus. My bag is one of the first pieces of luggage to get off the plane and I smoke my first cigarette in Texas. A boy named Carlos bums one from me and we start chatting about living in New York. He wants to hail a cab with me but I told him my friend was picking me up. He was adorable and super nice and we parted ways wishing each other a good time at SXSW. I call Jared and he's trying to explain where he is and I'm not following. I'm looking for a car, not a gentleman. He's walking towards me and confesses he thought the 'mo that just walked past me was me. I really hope I don't walk like that. We hug and it feels good. It feels familiar. I haven't seen him in years. He's wearing all black as well and I don't feel as goth anymore. He forgot to drop off his friend's bike to her so we have to rush back to Austin proper. He makes a few wrong turns and said we were in the ghetto but it looked super cute to me. I think New Yorkers and Texans have different perceptions of what "ghetto" is. South Lamar Blvd. I will get to know this street very well. We drop off my bags and stuff at his apartment and head downtown. His apartment is cute with wooden antlers and an empty refrigerator. We park in the parking garage of his job and find his friends. Things are getting blurry. I meet a girl named Vanessa and I'm immediately smitten. We were listening to her mixtapes in her car. The really slow ones with random Britney songs on it. Austin is insane. There's thousands of people in the streets walking in every direction possible. East 6th is impossible to navigate. Protestors, musicians, goths, punks, hipsters and the like are all over. Music is blaring from every restaurant, bar, venue. Live bands just pouring into the streets. It just sounds like chaos. A harmonious chaos, if that's possible. The Boy is somewhere. Texting me his whereabouts. I'm not sure where I am. But we meet up somehow. He's all over the place. Literally and figuratively. The embrace I was anticipating never came but he's working the festival and he's distracted by obligations and chaperoning record executives who keep getting too drunk on his watch. We end up at a Coyote Ugly. I don't want to drink or I'll fall over in exhaustion. I need caffeine. I think we find some at Halcyon. I made a mistake and ordered a hot coffee instead of an iced one. Oh well. I find a food trailer that has falafel. The cute girl recommended I put feta cheese on it. I never had feta cheese on a falafel and it was amazing. The first bite I take was full of red pepper and I'm dying. I run to the bodega (or Texas's version of a bodega) for some water. The Boy and I go to a hotel to charge his phone. He tells me more about his chaos. I sit on his lap. The embrace I hoped for is found here. I meet up with Jared again. We head home. But we stop at Kerbey Lane first. Our waiter is this dudebro thing going on but it's endearing and awkward. I order migas. The first time I ever had migas was with Jared in Austin four years ago. It seemed appropriate. I flip through a newspaper and Jared gets mad I'm only half-listening to him. After our late night meal we sit down on the ground of the parking lot next to a police car like the goth kids we used to be smoking a cigarette. It's a surreal moment and we hop in his friend's car and get back to the apartment.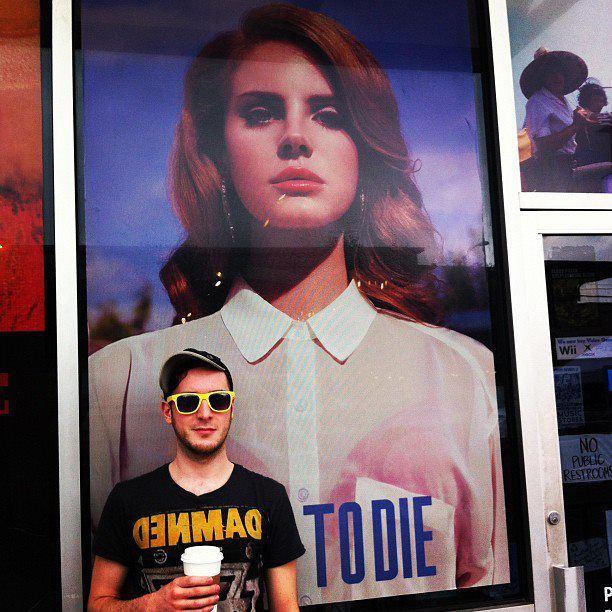 We have an early date with Imperial Teen at Mellow Johnny's Bike Shop in the morning. Of course I think they go on at 9am. But I was wrong they went on at 11am. I got confused. They were playing a show for the Seattle radio station KEXP. So there was a two-hour time difference. We order coffee anyway. Yes, there's a coffee shop inside a bike shop. That's Austin for you. The barista is rude and Jared GCB'd her. They have no clue about anything. They brew Stumptown coffee. We walk over to Waterloo Records and 24 Diner for some breakfast. I see a Lana Del Rey poster on the window and realize this will be the closest I'll get to her since she cancelled all her shows at SXSW. They have homemade vegetarian sausage here and I order that. Jared points out that the staff keeps yelling "Corner!" or "Kitchen" every time they walk past and it's all I can hear from that point on. There are two business people talking business at business volume behind Jared and it's driving us a little crazy.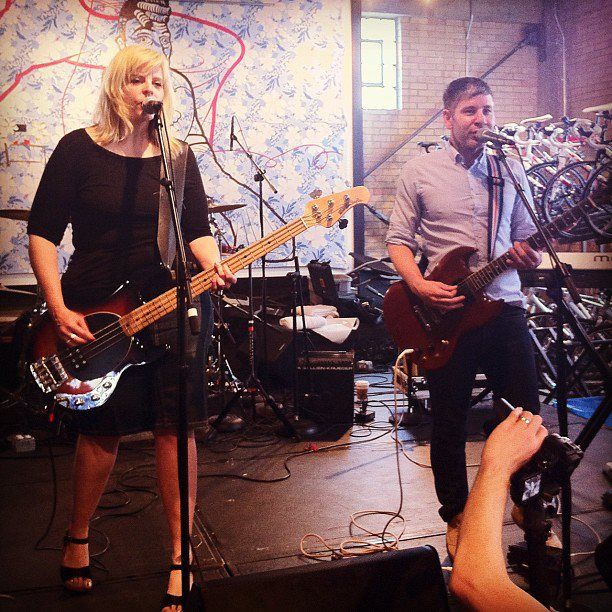 As you can tell Imperial Teen was unreal. I've never seen them perform before. Though, I have seen Will Schwartz perform as Hey Willpower at the (old) Knitting Factory in Manhattan; he danced his face off in a tank-top and high-tops. I felt like I was in some teen movie in the 90s. If you watch the video closely you can see my head bobbing along to every song. The two-hour-wait-turned-getting-breakfast-a
nd-coffee was well worth it. Their between song banter was adorable and it felt strange knowing that their set was being listened to live on the radio in the Pacific Northwest.
Things are getting blurry at this point. We meet up with The Boy and he's in a "mood." Over the course of the week, I'll realize that this "mood" will mutate and evolve into other similar moods that are not fun to be around. We meet him at a Kinko's. I meet a friend of a friend to obtain a badge. The Boy is scratching down a tentative schedule. He can't settle on where he wants to eat. We finally settle on The Jackalope after many other attempts elsewhere. I spot a power strip. We all charge our phones. It's one of TwentyFourBit's showcases happening. A band called Big Deal is on stage and I'm swooning hard. I guess this is what SXSW is all about. Everything becomes a venue. Parking lots, sidewalks, someone's living room, a random restaurant. I try to drink a free coconut water but I can't seem to enjoy coconut water. The Boy asks me if I want anything before he orders. I say an iced tea and he comes back with a soda for himself. Okay. There's a dude that works here that is wearing the shortest jean shorts I have ever seen on a dude. Daisy Dukes if you will and I believe he was straight.
We head to the MTV U Woodie Awards show. I want to see Dev and I do. The Boy takes some awesome pictures of her. She plays all of the hits you would expect her to. There's free food and booze everywhere and I partake in vegetarian burritos and some local beer. Austin is all about their local businesses and I love that they are infiltrated within the festival along with Reese's, Taco Bell and Vitamin Water. We drink sake mixed with Vitamin Water. I'm feeling woozy. It's hot. There are strawberry ice pops that taste exactly like strawberries which kind of weirds me out. I remember the top half of my ice pop fell to the ground and it made me sad. We leave the Woodie event for an unspecified location. We catch Keane playing in some courtyard and I forgot how big Keane got a few years ago. I remember being introduced them in 1997. Oh shucks I'm doing it again. I'm confusing band names. I was doing that all week. I'm confusing Keane with that Swedish band Kent. I was introduced to them by a boy I met off AOL. All week I was confusing Zambri with Kimbra. They are the same person to me and I'm not a fan of either of them. Diamond Ring, Purity Ring, Diamond Rug. The same thing. I can't keep them straight. The Boy hates it and calls me out on it every time. I'm exhausted and need to sit down to recharge not just myself but my phone. SXSW is all about charging cell phones. Everyone is always looking for an electrical outlet. Cell phone batteries always dying. I'm in the RED. 10% battery life.
We can't leave until I'm out of the red...
We run into V there. She's already on her way to drunk. I'm on my way to narcolepsy from all the sake and beer. Part ways. End up back at the Woodie event again. Facebook informs me that my friend Liz is there. I find a seat on the ground next to a fence. I'm fading fast. I people watch. There are gorgeous boys everywhere. fun. is playing and it's making me feel ill. Everyone else is into it. I dig that "We Are Young" song but everything else is just awful. It's just like my relationship with his other band The Format. I only like that one song. He's kind of douchey up there and I'm not having it. I see my friend Liz and she's wearing one of those headsets. She erased all of my narcolepsy. She's working the event. We talk for as long as she can. I grab some Reese's peanut butter cups. Santigold comes one and she's a force. The Boy actually seems happy for once. I think it's his third time seeing her during the festival. Walk the Moon is playing on the other stage as Santigold gets ready at the stage I'm standing at. I didn't realize I knew most of their catalog and I love it. They have paint smeared all over themselves. A girl is throwing neon bracelets out to the audience and failing miserably. A dude takes over for a bit and he can spread the love. For some reason we're all yearning for some neon. DJ Pauly D is here and he starts spinning behind us in the VIP area. Santigold comes on. Her backup dancers are adorable, jaded in their self-conscious dance moves. Props galore and always in synch. Childish Gambino is supposed to play but he fractured his ankle the day before and had to cancel so Mac Miller replaces him. I'm not a fan. I eat more free food. Meet up DB near some electricity. He spills something on Jared's jacket and awkwardly pulls it off. He has an entire tote bag full of swag. Steve Aoki comes on and it's as ridiculous as you could imagine. There's an inflatable boat and he's in it crowd-surfing. Then not one but two birthday cakes are thrown on the audience. I'm glad I'm a few hundred feet back.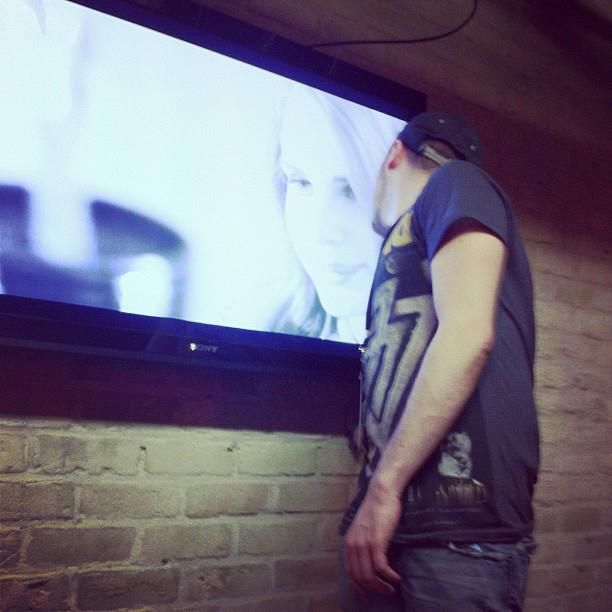 Show is over. We run into some of Jared's friends. They all seem to have dirty blonde hair and a bit wispy. One almost falls into a small ditch on the sidewalk. I'm not enjoying my strawberry ice pop so I throw it on a patch of grass. We're walking over to Rainey Street. This is a weird part of Austin I can't seem to wrap my mind around. Are these houses or are they bars? Are they bars or are they music venues? Grimes is playing Clive. We see if we can get in. Not a chance in all the world according to some bitch working the door. We find an extension cord connected to some electricity and charge our phones. I don't have anything to do until midnight when The Jesus and Mary Chain go on stage at The Belmont. Thanks to Alex I had a VIP bracelet for this venue. We walk over there. There are two lines going in opposite directions beginning at the entrance of The Belmont. I don't know where to go. J figures it out for me. I show my bracelet and I'm immediately in the venue. Sorry kids, I really didn't mean to cut the line. I have to sit through an entire Titus Andronicus set and I want to kill myself. I swear this band haunts my dreams. Why are they everywhere? Why are they opening up for one of the best bands from the 90s? And they are from New Jersey nonetheless. Go away Titus Andronicus! I have access to the VIP lounge area but it seems to be filled with Paste staff and members of The Jesus and Mary Chain and they are pouring orange juice into glasses and I don't want to seem weird in there. So I sit on the floor near the glass windows. I'm exhausted. I talk to the merch guy for a bit. J texts me and tells me he is charging his phone from a tree. I'm really confused by his text. Later on, he explains all of the trees in downtown Austin have "Christmas" lights on them, so there are electrical outlets on each tree to plug them in. J is ridiculously clever in figuring this out and for the rest of my trip we use the trees to keep our phones charged. After Titus Andronicus, I purchase a soda, for only caffeine purposes because I'm beginning to fade again. I make my way outside, to where the stage is and try and find a decent spot. There are so many people out here. I wiggle my way through and light up a smoke. I try not to burn anyone with every drag. There is a group of people in front of me that must be in their 50s. They are such Chatty Cathys and won't stop laughing and talking. There are a group of friends next to me who waited on line for six hours to get into this show. They had no badges. They had no tickets. They had no bracelets. They were so relieved and so happy to be standing just a few hundred feet away from The Jesus and Mary Chain. A super cute boy wiggles his way through the crowd and ends up standing next to me. He's taking pictures with his SLR. A rather cute girl does the same a few minutes later and takes pictures with her Instagram app. I think they are together, but realize during the show, that they are just randoms. The girl keeps trying to make eye contact with me and it's making me uncomfortable. The Jesus and Mary Chain are amazing and I keep getting goosebumps. A random shirtless Asian gets on stage and tries to take off his pants before a security guard aggressively pushes him off the stage. It's been awhile since I've been in a crowd full of actual fans who are excited to be where they are and not scared to show those emotions. It feels good. It feels liberating. A smile keeps creeping on my face every so often. Especially when a song I forgot even existed starts playing. The show is over. It's late. I find Jared near the buses. We go home.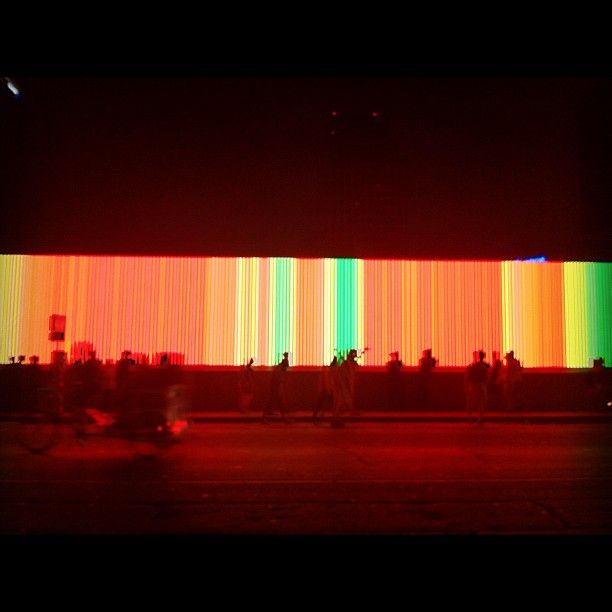 We start our next day late and I'm happy about it because I was dead to the world. We take the bus downtown. Get some iced toddy's at Bookpeople. I'm not sure what the difference between iced coffee and iced toddy's are but we drink them anyway. Jared eats a bagel and offers me the half with no cream cheese left. I got asked to leave the parking lot/seating area while I was smoking. I had to go to the sidewalk. The dude was nice about it, but it was weird. Jared has the epiphany that he's missing out on something and leaves me near a grocery store. I walk to where The Boy is staying. Something's wrong. The apartment he's at is near some weird industrial area but not too far from where I was. He tells me his stories. We cuddle on the bed. His coworker is going on and on about her woman problems. She's cute about it. It takes forever to get him to leave the apartment. I'm starving. We find food. I order a veggie burger from some burger joint called Stack Burger. It's sooo spicy. I ask for honey mustard but they only bring mustard. There's a strange band playing. The Boy is still in a mood. I don't know how to fix it. So we barely say anything over our late lunch. We walk over to Fader Fort. The Boy yells at me because my empathy levels are sucking. I don't know what to say. I try to play devil's advocate or offer a new perspective instead of agreeing and heightening the pain/anger/sadness. I get it. People need people to be agreeable and yes them to death. I'm just not good at it. The line for Fader Fort is long and there's no one I want to see anyway. I forfeit the line and sit on a cement wall and people watch as The Boy skips the line with his badge. Jared is full of food and good thoughts. He helps me sort through the dramarama. We go to the Marlboro trailer to see if we can score free cigarettes. We score a pack for $1 and some tee shirts and a thumbdrive with awful Marlboro-approved music on it.
Things become blurry again. I know I end up seeing Counting Crows at Auditorium Shores. It's a bit of hike and I keep getting reactions to my Rihanna/Nirvana shirt. Jared and I get in some argument while in this grassy park. We part ways in this field of grass and strangers. There is a designated drinking area, in some kind of corral. We go there and drink things while watching all these teenagers be teenagers. Boys wearing ripped jeans and their boxers hanging out said rip. I was probably this annoying back then too. Gosh, I apologize to any randoms that had to deal with me and my friends back in the 90s. I had no idea the Counting Crows were going to play a full set. "August and Everything After" was the first rock record I ever bought with my own money. It was money I made by literally digging a hole in my front yard. Don't ask. Counting Crows play everything I wanted them to play but "Colorblind" is the song that made me weepy, fragile and on the verge of either fainting or having a nervous breakdown. I'm flooded with memories of the early 90s. They mostly consist of my best friend Gillian and my sister Tiffany. Roaming the neighborhood, riding our bicycles screaming lyrics to "Round Here" and "Mr. Jones." It's a long walk back to civilization. But the Austin air feels good at night.
We make it to the Arts & Crafts showcase to see Trust. We're there early and it's already crowded. I find a seat on some wooden pew against a cement wall. There is something wet but I try and ignore it, I'm oh so tired at this point. A few bands open up and I rush near the front of the stage just before Trust get on stage. They're incredible. I didn't think a voice so deep could come out of such a young tall white boy. I feel more into that everyone else. It's probably because I have been listening to their track "Sulk" on repeat for the last two weeks.
The order of things are lost to me at the point. It's been months since SXSW and I just returned to this post to try and finish it up. That night after Trust we make our way to that diner that had the vegetarian sausage. It's packed. Everyone is exhausted and The Boy leaves once he finishes his meal. I think he had to let some coworkers into the place they were staying at. Ten minutes later Bill Murray gets seated right next to us in the diner. BILL FUCKING MURRAY! It's so surreal and it takes a few minutes for it to sink in and for everyone else to notice. He's with a lot of young ladies. He looks really old too. No one bothers him though. I pretend to go to the bathroom to try and get a good paparazzi shot. All I could muster was a shot of his back from where we were sitting. When we leave, people are crowding near the windows of the diner to peek in at him. It must be strange to be that noticeable. We attempt to walk back to Jared's even though it's miles and miles away because the cab company in Austin won't answer their phone.There is a very drunk guy walking around like Bernie on the dirt path on the side of the road that we're walking on. It's creeping me out. Perhaps he's an extra from The Walking Dead? I pull out this pocket knife thing I got from somewhere that day just in case. We only walk about half of the way to Jared's until we spot a taxi coming down the road that has no one in it. I've never been more excited in my life.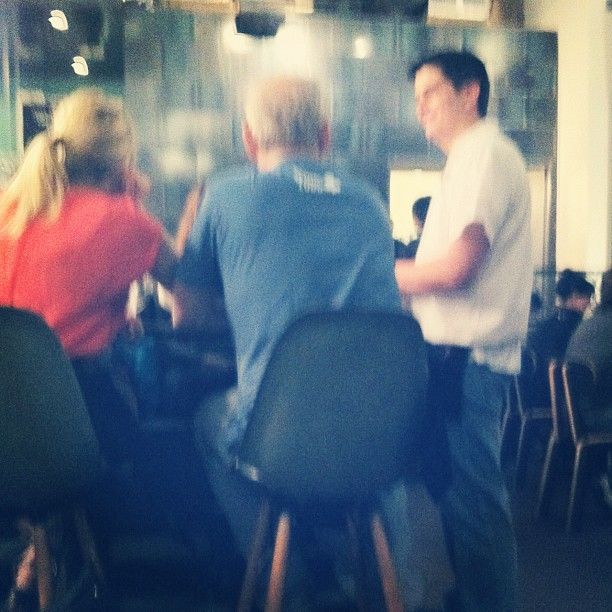 The next morning we go to Bacon where I order a non-bacon breakfast taco. I realize a pack of Camels are only $6 in Texas. Next stop is Youth Lagoon and Nada Surf at Waterloo Records. Youth Lagoon is filling up the street with all it's fuzzy music. I can hear him from three blocks away. Nada Surf rocks everyone's face off but they play too many new songs. We head over to the W for the Nylon party and it's extremely awkward. They actually check the RSVP list and we have to share an elevator to the rooftop of the hotel with a bunch of strangers. There's free alcohol but it's much too early for alcohol and we have a long day ahead of us. The pool boys are fun to look at and the guests that are staying there seem really confused by all the weirdos walking around the pool. We meet the coolest dog on earth.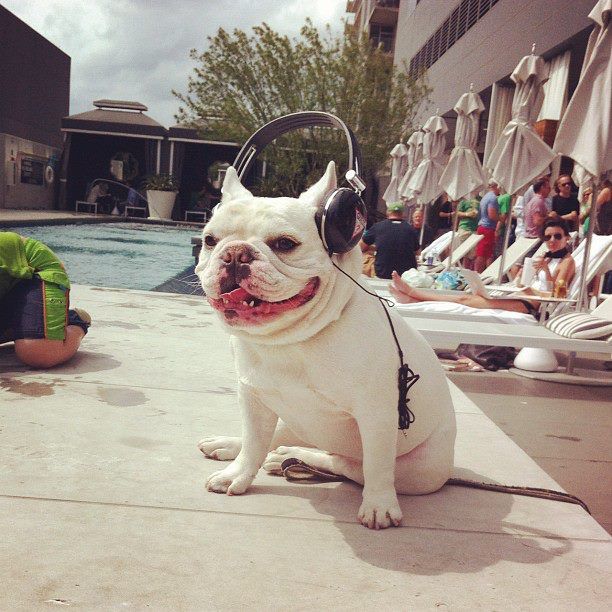 Jared was squirming up there and wanted to leave, so after I reveled in his uncomfortableness for a bit, I told him we could leave a few minutes later. We make our way out of downtown Austin to some other part of the city where there is a university. Urban Outfitters is throwing a showcase and Grimes was headlining. We have to sit through a few buzz worthy bands that are not very good. Grimes is sick and coughs, squeals, and "fucks" into the microphone a lot. It's incredibly endearing and the crowd is supporting her through the entire process. She loops her vocals, twisting knobs, pulling levers, throwing the microphone over her shoulder. Instead of having pre-programmed music, she is literally creating the beats and synths here in front of us underneath this tent in the back of an Urban Outfitters. I'm smitten.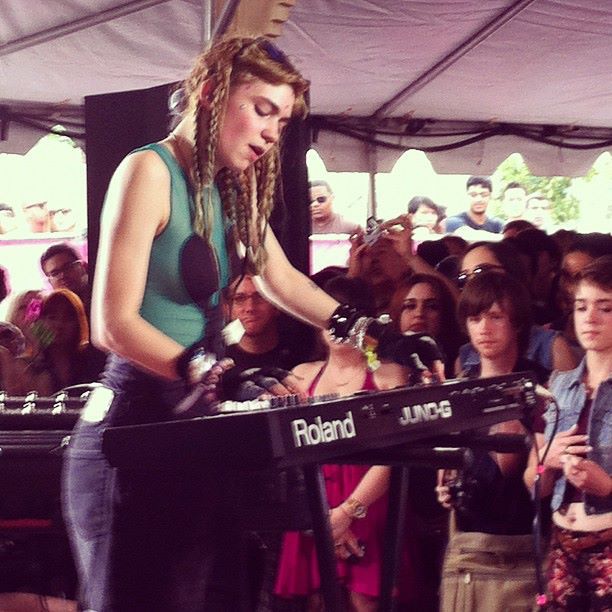 We're starved and Jared takes me to this asian vegetarian restaurant down the block from Urban. It's incredible and cheap and I want to eat everything. I'm exhausted. I think we eat at Kerbey Lane Cafe every other day and I don't have a problem with that. It's delicious. I dream about the queso and chips. The Boy, Jared and I go there for a late breakfast. The Boy and I are so confused by "Southern hospitality." Why are all the waitresses and waiters so nice? Are they genuine? Or are they condescending? It's too hard to tell. Jared claims it's all authentic but us New Yorkers are just to jaded to comprehend. I'm used to waitresses yelling at me, or telling me about their raunchy rendezvous from the night before. Waitresses in New York are porn stars, moms with five children or aspiring actresses with huge egos.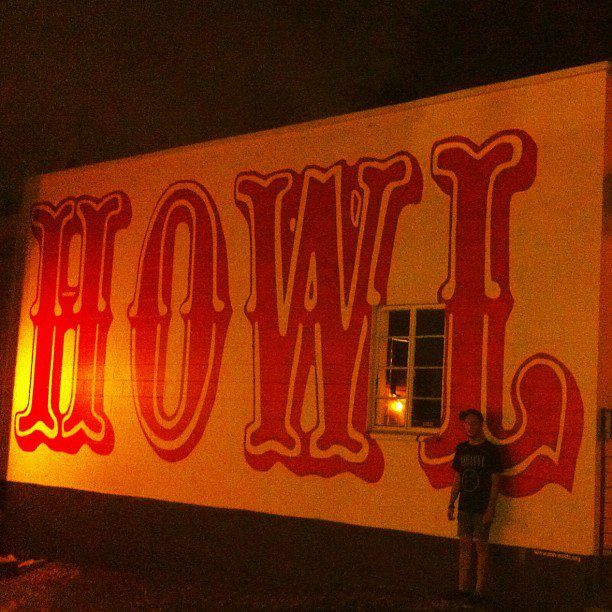 We find ourselves in a few gay bars one night. The fag hags are unimpressive and I wished I wore something different. These bars are nothing like Flamming Saddles (which was just voted Best Gay Bar in New York Magazine this week) which plays the same Shania Twain songs over and over, accompanied by Country-Western go-go boys on top of the bar. Drinks are so cheap, people queue up awkwardly to buy them and there wasn't an opportunity to dance. We head from one bar to another. One had a drag competition going on and it was absurd. After the show, the dance floor opened up and we were all drunk enough to get our grooves on. A guy with tattoos bought me a shot and a Corona and showed me his hard-on while on the dance floor. He supposedly had a "butter face" and Jared hates me for the rest of the night. I don't remember how we got home.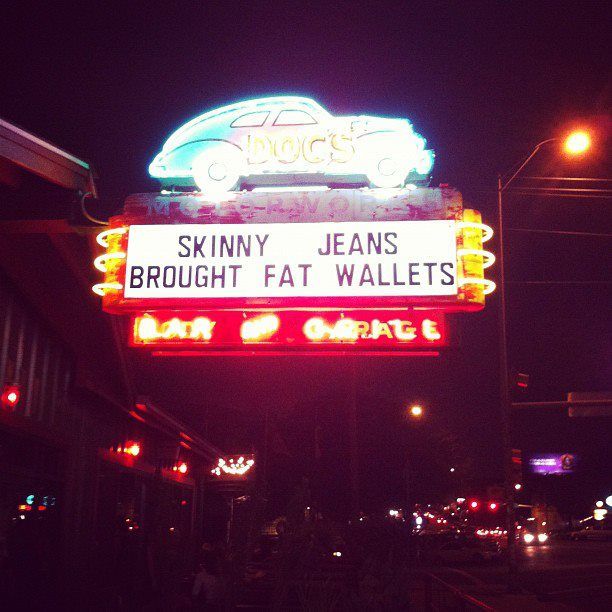 There are so many dogs in Austin and I want to take all of them home back to New York. The Boy and I go on an adventure to find Gourdough's, a food truck that makes delicious, out-of-this-world doughnuts. It's drizzling a bit and we can't stop orgasming while devouring our desserts. Google Maps brought us through this weird wooded path to get there and The Boy was fearing for his life. We even had to cross over a stream. We go to the Alamo Drafthouse to see
Jeff, Who Lives at Home
and I get really emotional as The Boy abandons me and I have to walk miles back to the apartment, down South Lamar while a flash flood and tornado warning was in effect. I'm soaked, thinking a lot of thoughts and feeling a lot of feelings. The rain is relentless. The wind is blowing everything everywhere and I wonder if it was my last night on earth.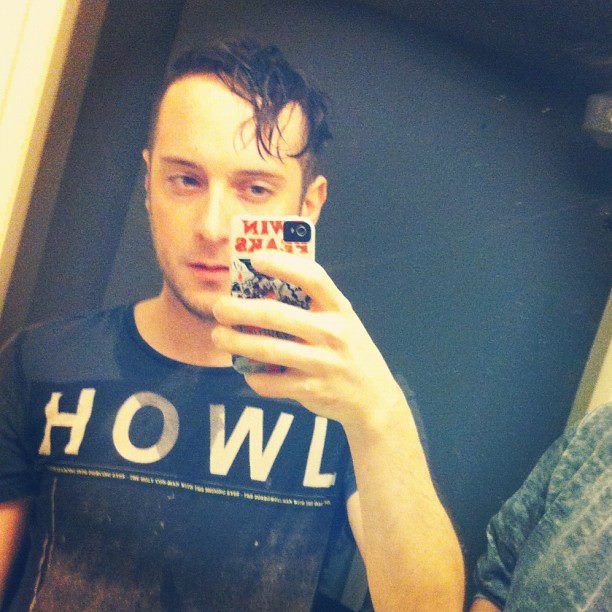 It is my last night in Austin and Jared and I sit on his balcony and smoke cigarettes and talk about big life things. Jared is one of the best conversationalist I have ever met. No wonder I dated him. My clothes are all wet, including my sneakers. The next morning we get breakfast tacos from some local eatery. Jared calls me a cab. The cab driver is listening to classical music and driving 40 mph on the freeway to the airport. It's incredibly awkward. I watch people say their good byes outside the airport terminal as I smoke my last cigarette and my phone starts blowing up informing me that Lana Del Rey is playing a three night residency at Irving Plaza. My heart jumps to my throat and make my through security. Lana Del Rey might have cancelled all her SXSW shows but nothing will stop me from seeing her in New York this time. Nothing!